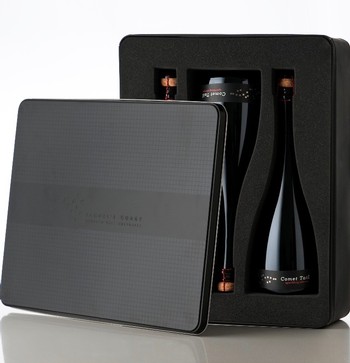 2015 Comet Tail Sparkling Shiraz
3 bottle gift box

Our Comet Tail three pack is the ideal gift for that hard to please wine lover. Presented in a beautiful embossed tin, with lush foam interior, the packaging reflects the luxury and extravagance of this stunning sparkling wine.
The epitome of romance in a bottle; traditionally made, bottle fermented, liquored with rare muscats and ports and a result of contemplative devotion to this trade. The nose leads with coffee bean, oyster Kilpatrick and a dash of white pepper; chase the surprises and delights offered up by this beautiful sparkling Shiraz. With a starry spray of fine beads dancing from the base of the glass, the Comet Tail sparkling is a must have for any celebratory table.
Our McLaren Vale sparkling Shiraz is a labour of love, from grape to glass. Bottle fermented, riddled by hand then disgorged after 12 months on lees, this wine is liqueured with rare old Tawny and Tokay unique to Australian cellars. The 2015 Comet Tail finishes with freshness and vibrancy. The perfect wine to start or finish your next celebration!