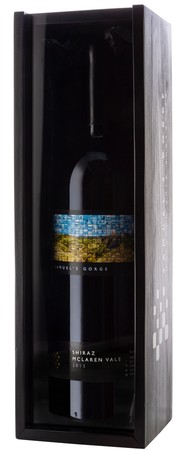 Samuel's Gorge 2015 Shiraz 1.5L Magnum
Just 100 bottles made

We have turned our hands at more Shiraz than any other single grape variety. It is a variety that reins over our province and for that matter, most regions in South Australia. Its magnitude in accessibility ought not to be confused with magnitude of fruit flavour. It has charmed the world because it delivers concentration but concentration on a multitude of levels.
Take the time to discern between regions and more so between the many interpretations producer to producer. In my mind, there isn't one classic regional style but perhaps a regional signature. In McLaren Vale we see the overriding relationship with the gulf and the endless blue ocean and sky. If one could dial up an out of body experience and witness our province from elevation you will see extraordinary intricacy, diversity in personality and application to landscape. That is why this great grape is endlessly fascinating and never monolithic or generic here; Leave those ideas in the 80's.
The 'Holly Nelly' factor: the nose has a potent lift of liquorice and blackberry fruits. We embrace the mulberries that continue to be a signature of our own estate block and then we build from there. In order to balance the natural sweetness of these berry fruits the wine weaves in savoury of black olives and baccalà with ancient sticky balsamic. Our rustic house style always comfortably returning to a savoury spectrum. It shows the nuances of seasonal variation.
This is surely a wine of grace. Bequeath it to your kids, or drink it before they get their hands on it.

Time in tomb: 20+ years