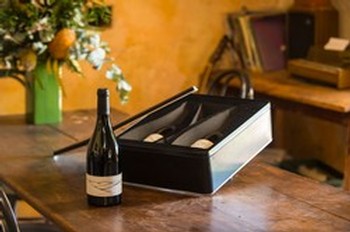 2018 Kaleidoscope Horizons
Grenache Graciano Tempranillo

Despite its tendency to be the more sultry and audacious of the two Samuel's Gorge reserve blends, the 2018 Kaleidoscope Horizons does sit somewhat closer to its counterpart. Here, we draw our inspiration from Rioja; of which we share so much in common. Our climate, culture, and a fierce love of wine, food, family and celebration connect us here in McLaren Vale quite closely to the heart of Spanish culture.
This is a special wine where articulation of the aromatics are key. Aromas of briary fruits, red plum, cigar box and a dusting of nutmeg mirage the delicate violets, pomegranate and roasted almond undertones. A gentle ribbon of acidity floats across the palate, finding harmony with the firm but finessed tannins to carry the fruit forward for as many years as you have patience. You will be blessed to have this wine in your collection.
The pairing options are endless but we think grilled lamb chops marinated in olive oil, mustard seeds, garlic, rosemary and parsley will compliment perfectly with a juicy Greek salad.

Time in tomb: 10-15 years