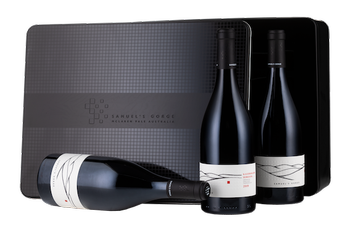 2019 Kaleidoscope Horizons
Grenache Graciano Tempranillo // 3 Bottle Gift Box

Inspired by the textural wines of the Rioja region in the north of Spain, this is a wine with heart.
Not dissimilar to the Mediterranean landscape that these grapes are native to, the windswept coastal vineyards here in McLaren Vale produce fruit of the highest quality, all with defined personality. These vibrant personalities are skilfully melded together by our winemakers to bring out the best in each, creating a multifaceted kaleidoscope of aromatics and flavours.
In this new release, decadent notes of kirsch-soaked red cherries and spicy cola float over a robust undercurrent of cigar box and earthy forest floor. As you sip, darker fruit flavours of blackcurrant and dewy forest berries appear, balanced with dusty tannins and crisp apple-like acidity. This is a captivating wine that draws you in and makes it impossible not to go back for more.
Pair this with pancetta wrapped quail and roasted red grapes.
Time in tomb: 10-15 years