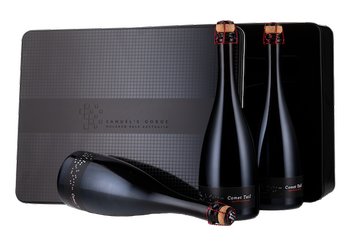 2020 Comet Tail
Traditional Method Sparkling Shiraz // 3 Bottle Gift Box

Set for release Saturday the 4th of November 2023, the 2020 Samuel's Gorge Comet Tail is made in the traditional method. The Shiraz grapes are fermented with time and care in the outdoor winery, under the big blue McLaren Vale sky. The wine is first barrel aged in old French oak, then bottle aged, before being finished with a dosage liqueur. This extended time on lees allows additional flavour and depth to develop, resulting in a velvety wine of intriguing complexity.
The 2019 Comet Tail is stylistically similar to the intricately layered and textural 2018 release. The newest vintage displays notes of dark plum, dried thyme and freshly ground coffee. The smooth bubbles create a velvet-like texture that makes this a delight to drink.
This highly sought-after wine is one we are proud to have in our lineup. It is the perfect welcome drink to share with friends and family, to help create a festive feeling regardless of the occasion.