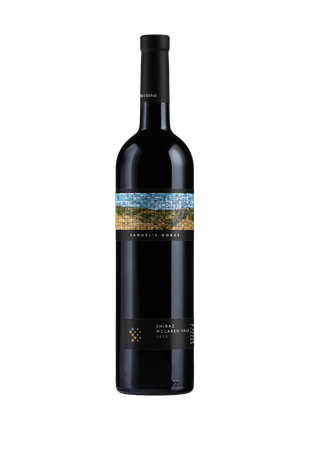 2020 Shiraz

Shiraz is deeply woven into the fabric of McLaren Vale; now intrinsically and quintessentially Australian. This grape variety lends itself to a range of stylistic interpretations that reflect region and winemaking craft, sparking spirited conversations amongst us here at Samuel's Gorge and in our community.
The 2020 vintage is deeply coloured and intensely aromatic. Notes of black olive, bitter dark chocolate and sarsaparilla form the savoury foundations, balanced by fruits of the forest and the delicate perfumed scent of magnolia blossoms. The spice range is where this wine truly shines with notes of cumin, pepper and sandalwood adding depth to this elegant shiraz.
On the palate, flavours of juicy cherry, blueberry and Santa Rosa plum integrate beautifully with the fine, structural tannins to create a wine which presents with playfulness, but is balanced with elegance and flow.
Pair a glass or two of this wine with spice crusted, roasted carrots and smoked labneh.

Time in tomb: 10+ years
Product Reviews
Huon Hooke - The Real Review
(28/02/2022 at 3:35 PM)
Deepish red/purple colour. Aromas of white pepper and dry spices, the palate firm and taut, tense and tightly packed, with potential to unfold more with time. Some elegance here and it still has more to show us. 92 points.
Ned Goodwin MW - Halliday Wine Companion
(28/02/2022 at 4:30 PM)
Very good proprietary shiraz. Weighty, but svelte and stylish, the French oak (15% new) and the period in it (18 mths.) well placed, serving to harness lively florals, dark cherry, dried nori, clove and anise. Nicely structured and fresh of feel as a result. Very good drinking. 94 points.