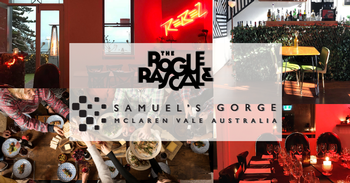 Samuel's Gorge comes to Port Lincoln

On Thursday October 18, Samuel's Gorge will partner with The Rogue & Rascal in Port Lincoln to create an unmissable food and wine experience. We would be delighted if you could join us for a seasonally creative tasting menu meticulously matched with Samuel's Gorge wines. Hosted by winemaker Justin McNamee, this is a night not to be missed!
The Rogue & Rascal is a Port Lincoln institution, devoted to innovation and good taste. Set on the foreshore, you can almost hear the laughter of friends and the slight chink of glasses as candles wink in the windows. The team, headed by Chef Katie Allen, are creative and forward thinking with their offerings, focusing on South Australia's finest produce.

We look forward to settling in and sharing this evening of excellent food, flowing wine and good company with you.
WHEN: 7pm Thursday, October 18
WHERE: The Rogue & Rascal - 62 Tasman Tce, Port Lincoln
TICKETS: $100pp