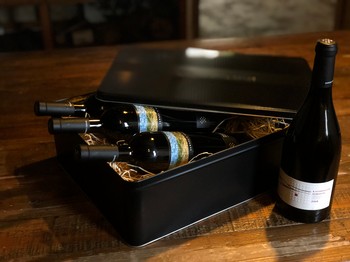 2016 Kaleidoscope Horizons Components
4 Bottle Gift Box
50 Available // $200 // Free Shipping

1 x 2016 Kaleidoscope Horizons
1 x 2016 Grenache
1 x 2016 Tempranillo
1 x 2016 Graciano
We've delved into the cellar to bring you a very limited selection of wines from the 2016 vintage - a bottle of the 2016 Kaleidoscope Horizons along with each of its three components, outstanding in their own right - textural, intriguing and completely individual.

Presented together in a Samuel's Gorge gift tin for $200.00, with free shipping.
Wine Profile
Other Notes
Huon Hooke (95pts): "Deep, rich red colour with a faint trace of purple and a complex and fascinating bouquet of smoky toasty oak and earthy, ironstone aromas. It's full-bodied, rich and solidly-structured, with plenty of stuffing. An excellent wine, loaded with character and interest."