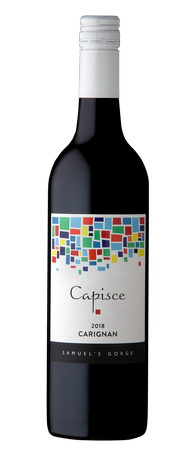 2018 Capisce Carignan (DOZEN)
Most widely grown in southern France, Carignan's origins lie in the picturesque, sun drenched Priorat region of north-eastern Spain. It thrives in a warm Mediterranean climate, requiring minimal water. Here in McLaren Vale, Carignan is well and truly at home under our blue skies; hot summer days and cooling ocean breezes creating the ideal growing conditions. Great care is then taken to encourage low yields and slow ripening, ensuring intensity of flavor.
Dipping your nose into this glass is akin to dipping your toes into the ocean. At first you can be a little hesitant, then all you want to do is immerse yourself completely.
Red fruits are immediately apparent. The relative sweetness of fresh raspberry is balanced with savoury qualities, reminiscent of Jamón ibérico or Capocollo. Aromas of juniper, violets and liquorice round it out beautifully.
Diving in, the tannins are immediately noted. They are grippy and add a layer of depth. Our Carignan is vibrant, lively and perfectly weighted for these milder Autumn evenings.
Time in Tomb: 6+ years
Serving Temp: 13.0°C