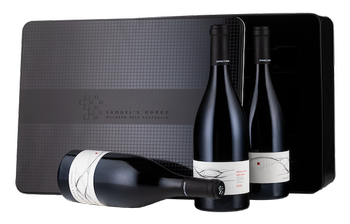 2019 Mosaic Of Dreams
Grenache Mourvèdre Syrah Carignan // 3 Bottle Gift Box

The Mosaic Of Dreams is an endeavour to make a contemporary wine of structure and finesse, inspired by the landscape and traditions of the Southern Rhone. Grenache driven, this blend harmoniously balances the soft spice range of Mourvèdre, the elegance of Syrah and the plush fruit of Carignan.
This wine is inherently floral, displaying notes of dried rose, wild rosella flower and violets. This softness and elegance is supported by more structural notes of Oolong tea, black pepper and dried spice.
On the palate there is plush red strawberry, rich plum and more of that gentle roasted tea tannin that lends an intriguing earthiness to the wine. This wine lingers, with a very long finish weaving its way across the palate, slowly revealing more of its personality with each sip.
The 2019 Mosaic of Dreams is a wine of marvellous complexity that will develop and evolve with the passing of time. Enjoy this with traditional Peking Duck and all its accompaniments.
Time in tomb: 10-15 years