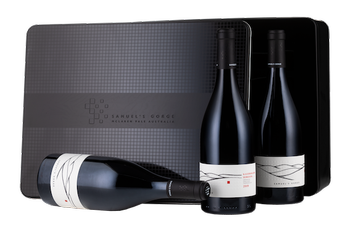 2021 Kaleidoscope Horizons
Grenache Graciano Tempranillo // 3 Bottle Gift Box

The Kaleidoscope Horizons references the multifaceted, colour-filled moments when the sun lays low over the horizons, illuminating the landscape. The colour spectrum and climate of McLaren Vale is not dissimilar from the sun bleached, warm hills of the Rioja region in Spain that inspired this blend.
This wine is wonderfully perfumed and aromatic. On the first swirl aromas of black tea, cola, ripe cherry and freshly cracked peppercorns are released into the air. On the palate there is plum compote, the ever-intriguing dragon fruit and a darker, more serious charred element.
This blend perfectly captures the unique varietal characteristics of these grapes whilst creating a whole greater than its parts.
Pair this wine with chargrilled octopus, marinated in paprika, and served with potatoes.
Time in tomb: 10-15 years