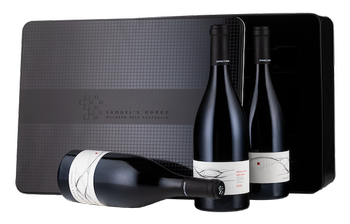 2021 Mosaic Of Dreams
Grenache Mourvèdre Syrah Carignan // 3 Bottle Gift Box

The Mosaic of Dreams is an endeavour to make a contemporary wine of structure and finesse, inspired by the Mediterranean shores of southern France. This Grenache driven blend harmoniously balances the soft spice range of Mourvèdre, the elegance of Syrah and the plush fruit of Carignan.
The 2021 release is a well-balanced, complex wine that slowly unfurls, revealing more dimensions of its character with each sip. Whilst it drinks similarly to the 2020 release, it presents with a slightly amplified flavour profile.
Notes of mulberry, blackberry, roast hazelnut and earthy cinnamon quill waft from the glass. This is tempered by undertones of soft leather and bitter orange amaro. On the palate the spiced cinnamon note follows through, along with the darker berry flavours. A hint of French saucisson brings the savouriness, providing that balance.
Hold onto this one as long as you can bear it, it will only develop more given the magical touch of time.
Pair it with thyme crusted rump steak and pickled golden beetroots.
Time in tomb: 10-15 years